Chicago Masonry Waterproofing, Tuckpointing and Restoration of Block, Brick, and Stone Since 1991!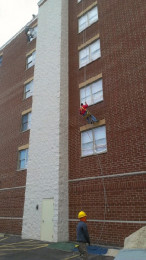 We are a family owned business! Since 1991 ROMA has been waterproofing and caulking CMU / Block and brick homes of all ages. We are based in Lincoln Park, but we service our surrounding suburbs as well.
Our combination waterproofing/caulking services produce results that are virtually trouble free. R.O.M.A. will issue a warranty on any building where we provide our services. (Extended warranties are also available.)

We have the expertise to assess and correct problems you may be experiencing due to the poor quality masonry workmanship and materials. Our materials are safe. Our service is proven. Be assured your building's masonry shell will withstand the deteriorating effects of weather. All R.O.M.A. employees are fully insured (workers compensation and general liability). Certificates are available upon request.






For a Free Estimate Call:
773-348-0065
Or Email us at:
Waterproofing Homes Since 1991.
Our company is dedicated to servicing our customers and to protecting the environment. We only use quality products that are non-flammable and environmentally friendly. In today's economy "Value" is increasingly important to our customers, value in their home and value of a job well done. We safeguard these values by using only top quality products that carry up to a 10 year WRITTEN warranty. We will even warranty our labor. We are that sure of our employees' ability and work ethic. To further protect them, and you, ALL of our employees carry General Liability and Workman's Compensation. We encourage our customers to check this out for themselves, because unfortunately many contractors skimp on the important things to keep their profits high and expenses low.